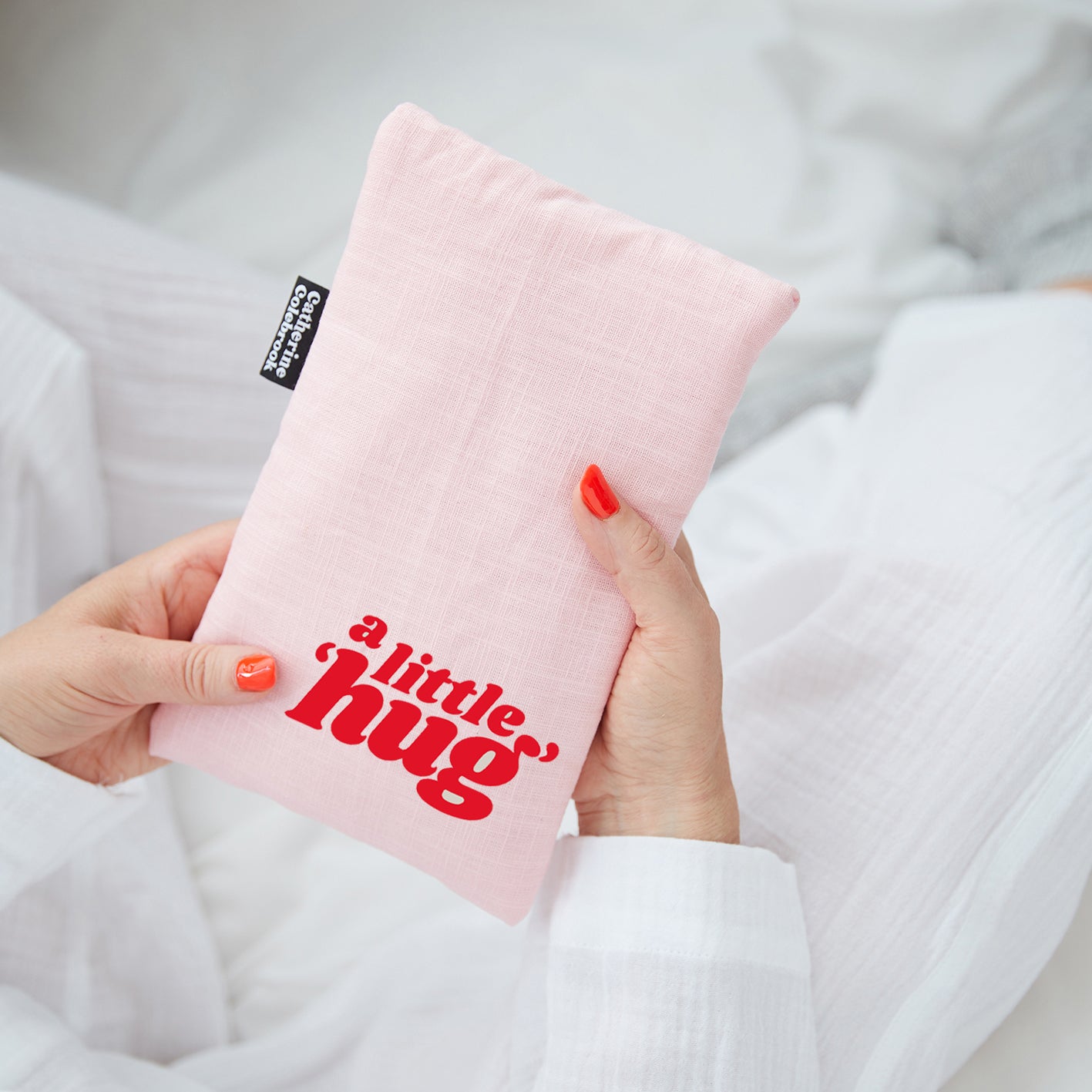 'A LITTLE HUG' CUTE HOT WATER BOTTLE - PINK/RED
A perfect way to send a hug to a loved one. They make a lovely thoughtful gift, for a partner, mum, or best friend. Made in Britain they are ideal for those in need of a little TLC because sometimes we all need a little hug.

The pink linen cover looks fab with the contrasting red 'a little hug' print.
This hot water bottle is perfect for any time of the year and can take you from relaxing with a book in bed, to cosying up on the sofa on a cold night.
Keeping your body warm, it soothes aches and pains, great for PMT, tummy aches, and sore backs. A perfect gift idea -  this smaller than normal hot water bottle is just the right size to hug.
Made from soft linen, padded, with a hot water bottle included.
Perfect for
Relieving aches & pains
Keeping snug on cold nights
PMT/ tummy aches
Shoving up a coat on chilly dog walks or whilst watching sport
Delivery in 2-3 working days. Free UK delivery. Made in Britain. 
Size 25 x 15cm
Founded in 2006, everything is designed by Catherine Colebrook at our HQ in Cheltenham. Everything is made in Britain and we hand-finish & print everything in-house.
FAQ'S
Does it come with a bottle?
Yes, the hot water bottle is included in the price
Is it washable?
Yes, the cover can be fully removed for washing at 40c. Do not iron.
Are there matching items?
There are matching eye masks, eye pillows, along with large hot water bottles, some of which can also be personalised.
Matching is great, but mixing any of our patterns, for example, a gingham or linen with a liberty print can look beautiful.
Recently Viewed