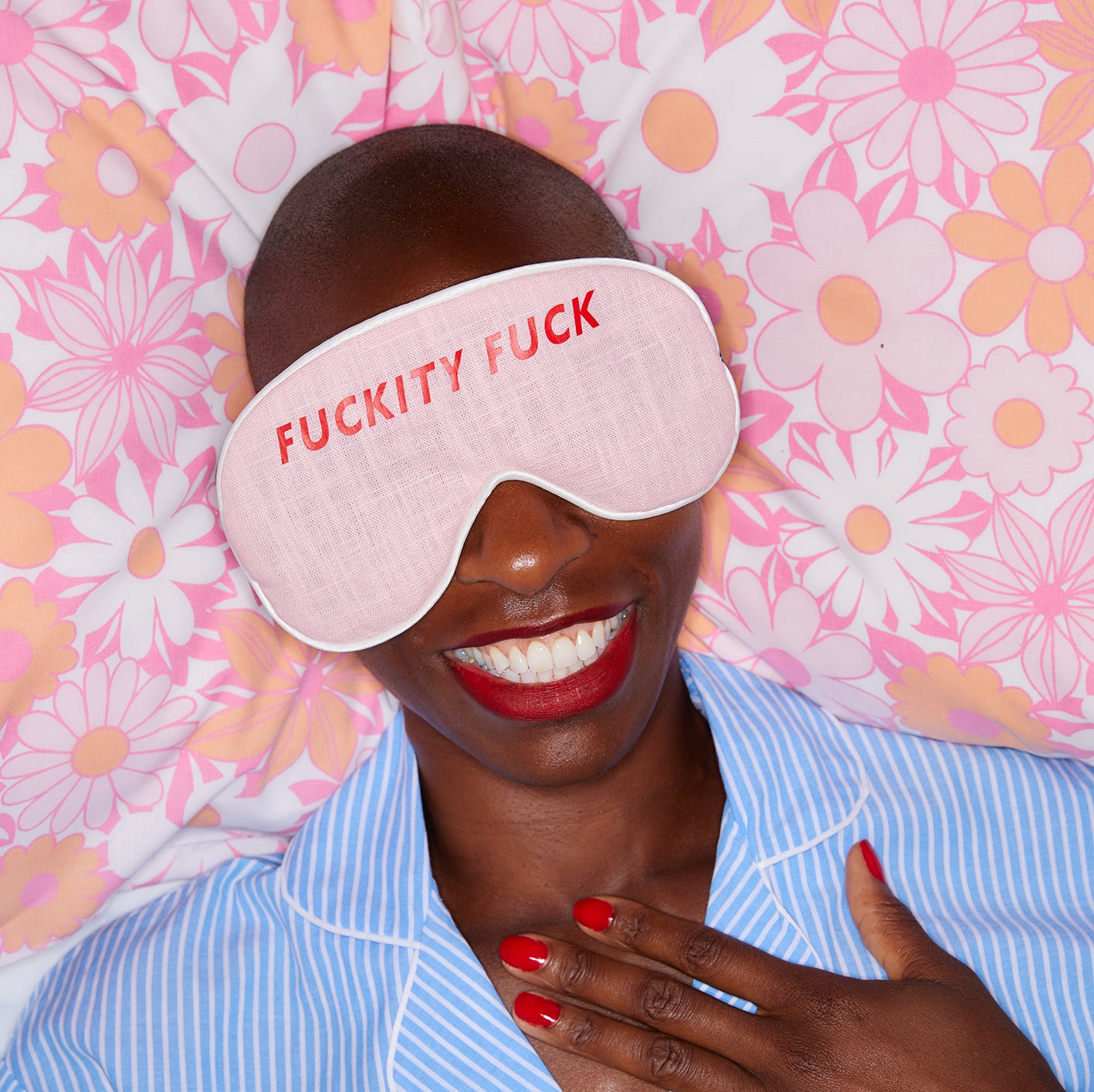 'FUCKITY FUCK' EYE MASK & OTHERS
Say it like it really is.....
Choose from the following sayings
FUCKITY FUCK
F**K OFF
HIDING FROM THE SHIT SHOW
SHIT SHIELD
I DREAMT MY HOUSE WAS TIDY
FUCK OFF
HIBERNATING
Choose your saying & choose your colourway - simple.
A gorgeous eye mask designed by Catherine Colebrook. Made from beautiful soft linen.
Delighted to launch this pink to our linen collection, such a cool colour & looks amazing with red - am OBSESSED!
Made with comfort in mind, this softly padded gorgeous eye mask has a sleep-inducing lavender scent, or can be purchased scent free - choose your favourite before checking out.
The masks have a comfortable stretchy velvet strap, which adjusts to your head, whilst soft navy velvet sits next to your eyes, perfect for blocking out light. It is bound in satin bias binding.

Your eye mask comes gift wrapped in tissue if you are buying it for a friend we can send direct with a handwritten gift note at no extra cost.
Perfect for
travelling

essential daytime napping

 

improving sleep during light summer nights & bright summer mornings

or simply hiding from the world & getting 5 minutes of peace.
Delivery in 2-3 working days. Free UK delivery. Made in Britain. 
Size 19 x 10cm
Founded in 2006, everything is designed by Catherine Colebrook at our HQ in Cheltenham. Everything is made in Britain & we hand finish & print everything in house
FAQ'S
Is it washable?
Yes, it is absolutely fine to either spot clean or hand wash your eye mask in warm soapy water, even if it has lavender in it.
My top tip is to let it dry either in the sun or on a radiator, so the lavender dries quicker.
Are there matching items?
There are matching heatable wheat eye pillows, hot water bottles in 2 sizes, and a pyjama case. 
Matching is great, but mixing any of our patterns, for example, linen with a liberty print or with gingham can look so stunning.
Recently Viewed